Best-selling Books
quick & Easy reads for moms
Enjoy Parenting:
The busy mom's behavior toolbox
What's the hardest part of the day for you as a mom? Mornings, mealtimes, bedtimes? We've got the right tools for all of these!Enjoy Parenting teaches specific behavior tools but then it shows you tons and tons of examples of how to use these tools for the time of day that is hardest for you, mama. We've got you covered!
Enjoy Parenting harnesses the power of positive reinforcement to build up those desired behaviors and to teach new appropriate behaviors. It's setting our kids up for success both now and in the long run. Using small, actionable steps can help us be more effective and more efficient as parents. And then what's left? Time to ENJOY our kids! Isn't that why we became parents in the first place?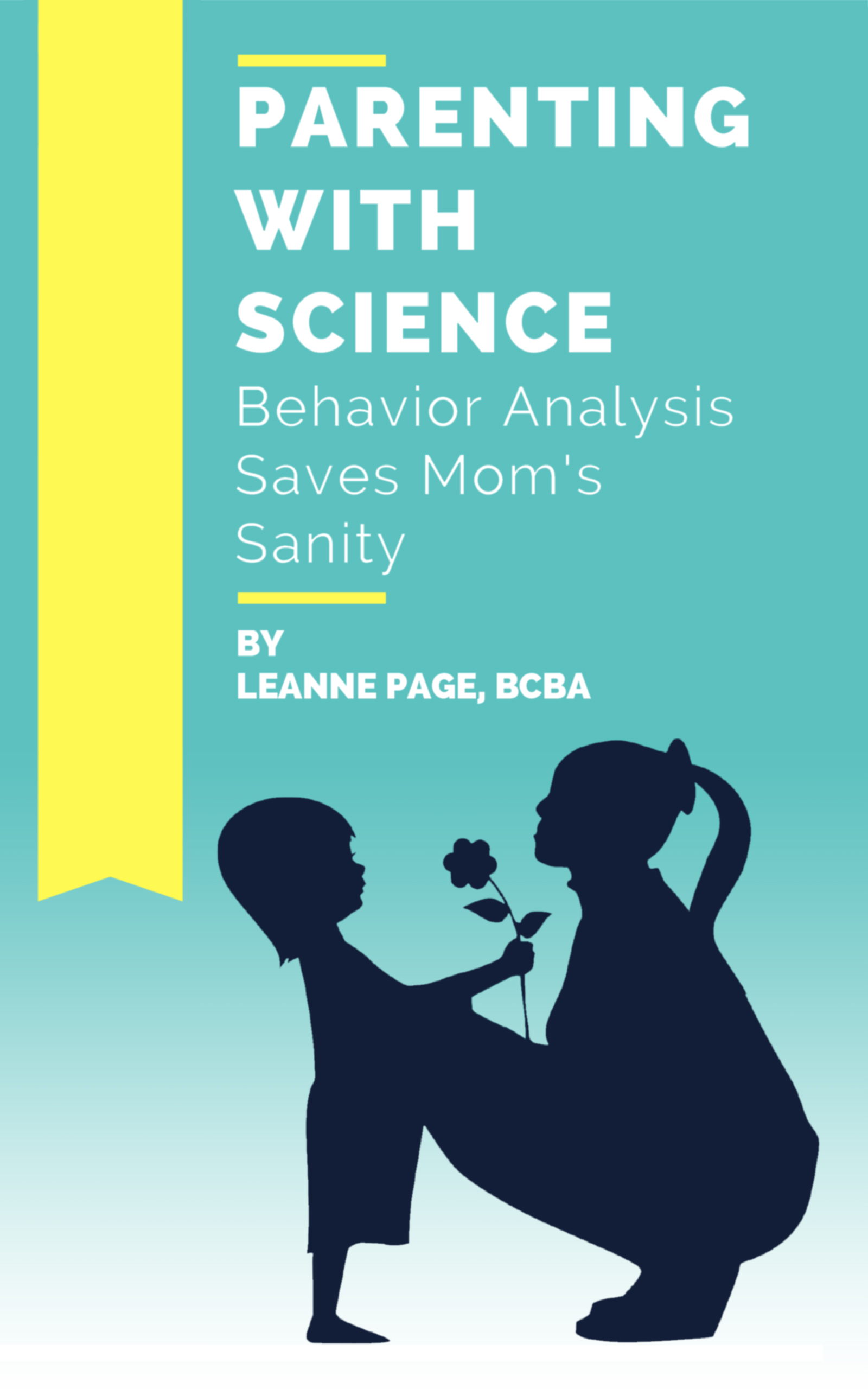 Parenting with Science: 
Behavior Analysis Saves Mom's Sanity
In this book, learn 10 strategies of ABA to help prevent problem behavior in your family. Read funny examples and get tips on behavior management to help save Mom's (and Dad's) sanity!
Use positive behavior supports to cut down on tantrums and hopefully help stop Mom's hair from turning gray. Okay- no promises on the hair thing. But positive behavior supports are evidence-based and proven to work with any and all people- even the Littles that run our households!
 Parents can implement these tools and reap the benefits of a calmer household with lots of positive reinforcement for all the wonderful behaviors of their children.
ABA works. Research tells us that. Why not try it in your home?
Leanne Page is on a mission to help all parents use proven ABA techniques to make parenting easier and more effective . Her new book: Enjoy Parenting: The busy mom's behavior toolbox is an easy read with great advice to help you continuously improve your parenting skills.
I loved this book!! As a mom of three young kids, I find the power struggles and problem behaviors really hard to deal with sometimes. Leanne gave many practical, mom-friendly ways to connect with my kids AND increase their positive behaviors without having to resort to yelling or spanking. As a behavior specialist, Leanne makes ABA very tangible and easy to understand for the parents. This book is funny, easy to read, and is designed for children of all ages. She teaches you how to set up a token economy system, model desired behaviors instead of nagging, and teach your kids to help with chores.
There are also lots of great examples on routines, kids learning to play independently, homework without the power struggles, mealtimes, and help with personal hygiene! I highly recommend this book for any parent as a guide to help decrease the negative interactions with your kids and improve on positively connecting.
Leanne Page has written a friendly, practical guide for parents who want to communicate and lead in their homes with less drama and more joy. Her background as a behaviour therapist shines through, but it's clear that Leanne also writes from the point of view of an experienced and compassionate mama. 
As a parent and behavior analyst, I love Leanne's approach. She is able to teach about the science of ABA in a way that is easy to understand and easy to implement. Her strategies are effective and can help busy parents in so many areas of their lives!
Love this book! Such a quick read and has great information for moms! The examples are very helpful in explaining the topics covered. I will be recommending this book to friends with littles as well as parents that I work with!
Wow, this book is a godsend! I was struggling to handle all the unstructured time now that everyone is home during this pandemic. This book helped me understand the benefits of priming, keeping kids abreast of the schedule or what's going to change before it occurs. The task analysis technique of writing done the steps for a task so you don't have to keep repeating yourself is so awesome.
If children came with an instruction manual, this would be it! Enjoy Parenting does a great job of making the science of behavior simple, understandable, and accessible for all parents.
Fantastic! Whether you have a 9 month old baby, or a rambunctious pre-schooler, the strategies in this book will help YOU form habits that set your child up for success! Who doesn't want that? Quick and easy read that perfectly illustrates how proven strategies, widely used in schools and clinics, apply to toddlers! Lots of great ideas that are more than just "tricks." These strategies are based on the science of behavior. This book encourages parents that you really are in control, and that the decisions affect your child's behavior!
What an encouraging read! It feels great to read something that I feel confident that I can implement with my kids right away!! This book is absolutely FULL of real-life situations, many of which I can identify, and there are simple and positive solutions for each. These strategies get my mind thinking, and my words sounding, WAY more positive!! That's definitely a win for my entire family!!