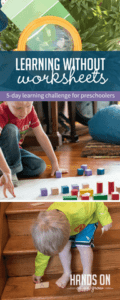 I'M A PRESCHOOLER. I AM NOT MADE TO SIT STILL.
What if you could find a way keep your child engaged and excited to learn… without the worksheets?
That's exactly what this FREE Learning Without Worksheets Challenge is all about.
Over the course of 5 days, we'll discover ways to create lasting memories & teach your child in just a few minutes at a time, keep your child engaged because worksheets aren't the only way to teach writing, reading and math concepts & even notice a better attitude in your home when your spend this quality time together. Being your child's first and favorite teacher IS possible—all YOU have to do is join us in this learning challenge!
*This challenge is being put on by Hands on As We Grow. I'm just enjoying it as both a participant and an affiliate.*