When you give an instruction, your kids listen and can even tell you what you just said, but they just won't actually do the thing…now what?!
When it comes to getting your child to listen to you, many of you said that follow-through is your biggest issue.
Positive Ways to Help Your Child Follow Instructions
#1 Give choices.
Let your child choose as much as possible on their own.
Give more independence and control to your child.
Use controlled choices- not just open-ended questions.
Think about your WH questions: who, what, when, where, how
Things like order to complete tasks, where to do your schoolwork, how you want to complete it, who you want to ask to do it with you.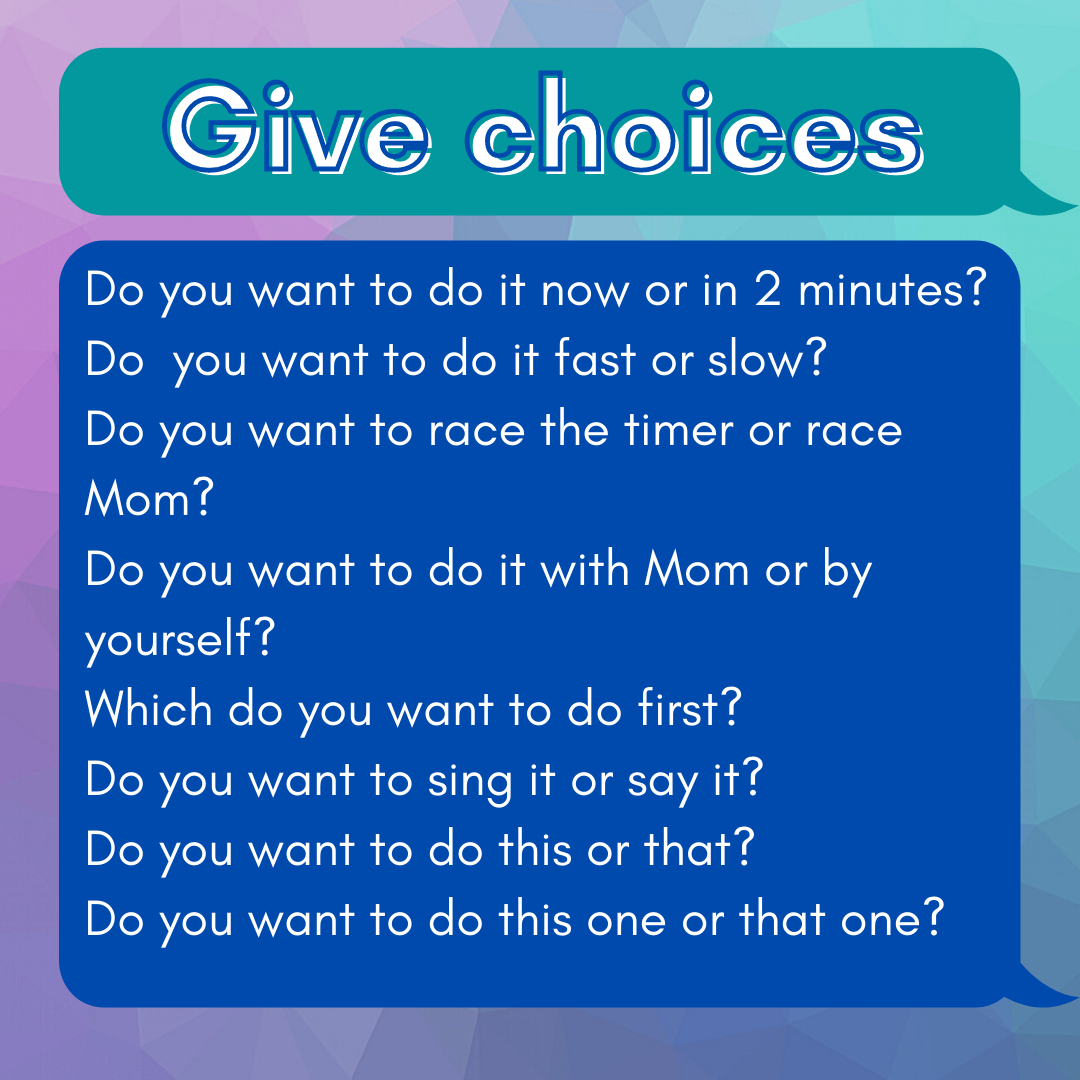 #2 Make activities more fun. 
We have to ask our kids to do things every single day. How dare we expect our kids to brush their teeth every day so they have good oral health?! Many many things we MUST ask our kids to do every single day. And if you are doing virtual school or distance learning for any amount of time- it's even more things you are instructing your child to do every day.
We can make everyday activities and even school tasks more reinforcing- less awful to our kids- by making them more fun. We pair the unfun thing with something that is reinforcing (or fun) to your kids.
Easy ways to do this:
Use music. Play music or make up a song about the task at hand.
Make it a race. Race each other or race the timer. Can you get this done before the timer goes off?
Make it a game. Incorporate their favorite game or characters to make the task more fun.
And no matter what- lead by example with your attitude. If you're trying to make it more fun, show that with your voice, facial expressions, and attitude. Cheer for the race. Sing the song like you're on Broadway. If YOU are more fun, the task will be more fun, too.
#3 Make it worth their while. 
Whatever your child is doing is more fun (more reinforcing) to them than stopping everything and listening to you. Maybe you can't even tell what it is that is more fun for them- it could be they are just imagining things or thinking about something they are interested in. Either way, when you are struggling to get your kids to listen to you, use positive reinforcement to make it worth their while.
Reserve all the best and most exciting privileges and activities for AFTER following mom's instructions.
Use a structured "First ____, then ___" statement to let your child know what is available after they follow directions. his natural first do one thing that's not awesome to earn something fun is something you already do every day in your parenting. It just happens. You may not even think about it and you probably don't say it out loud. But what if you did? Say it out loud? To your kids? Tell them what the logic is and what good thing is coming to them?
To increase follow-through, try these 3 strategies:
Give choices.
Make it more fun.
Make it worth their while.
You got this, mama!
Want a cheat sheet of this info PLUS 2 more topics to help get your children to listen? You can get it free and sent right to your inbox!