I'm excited to have Allison Venuto, owner of
Ducks in a Row
– a personal organization service- here with us on the blog today! More about Allison and
Ducks in a Row
 Personal Organizing below!
---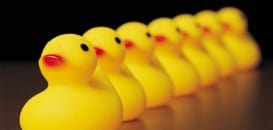 The World's Greatest 4-Year-Old spent the weekend at our house a few months ago and, in our ever-present attempt to win World's Greatest Aunt and Uncle, my husband and I planned an afternoon at Chick-fil-a and the Frontiers of Flight Museum.After that, we came home and did laundry and some other household chores.  I'm pretty sure he was more excited about the chores than the other outings.  Okay.  Maybe not more excited than when we let him have chocolate milk at Chick-fil-a.
Apparently, he's been asking to come back ever since.
Laundry and chores, you say?
Yes, laundry and chores.
I'll admit, when I concocted this day-o-fun I was worried that he might never want to come back because I had to have some time to get some chores done.  However, it makes complete sense.  Littles want to be involved with what adults are doing.
Too often, I hear from clients about how they spend the last few minutes of their days cleaning up after their Littles (or, they don't do this and get down on themselves).  Littles should be involved in household activities because it helps create positive organizational habits. Here are some tips:
Make the activity a game. 

 Ask your Little to see if they can put all of the red cars together before putting them back in the toy bin.  Count along with your Little as he puts one car after the other away.

Create a chore list.  

Help your Little develop a list of chores (and maybe your Little can draw pictures of each chore).  Each day, as chores are completed, ask your Little to mark off the chore.

Talk through your process.

  As you clean up the kitchen after dinner, voice your thought process about the chore.  Littles can learn a lot about how to organize by hearing how others do it.
The World's Greatest 4-Year-Old is coming back over this weekend.  Maybe we will clean the baseboards.
---
Allison started Ducks in a Row Personal Organizing in 2011, as a way to channel her passion for organizing into empowering others to enjoy life-giving pursuits.
A native Texan and a graduate of Baylor University and SMU, Allison want to help others create calming spaces and lives.  As mentioned in Dallas Child Magazine and featured on ATPE.org and BestKeptSelf.com, Ducks in a Row can help put systems in place that will ensure you create time for yourself.