This text was originally published on
bSci21.org
by Leanne Page, MEd, BCBA.
---
​
"Dear Behavior BFF, I've tried using a token economy and it helped for a little while. But lately my son has told me that he doesn't want to earn stickers and he doesn't care about the new toy he can get from his sticker chart. What do I do?"
​​
Now- a token economy is a great tool when it is combined with great positive reinforcement. What your message is telling me is that it's not the token economy that is the problem. The rewards you are offering your son are not reinforcing. It sounds like they were super reinforcing and effective for a while, but your son is just not that into these rewards anymore.
So what do you do? Throw out the whole token economy system? No! Let's find some more effective reinforcers to help you be successful again.
As parents, we assume we know what our kiddos like. We know what they are into, what they want, and what their preferred items are. But sometimes the things they will work to earn may surprise us.
Our kids may become satiated with the rewards we are offering them. This means they have had enough and it's no longer piquing their interest. No matter what the cause, what we do know is that our children's preferences change. To use effective positive reinforcement, we must identify what is reinforcing to our child at this point in time.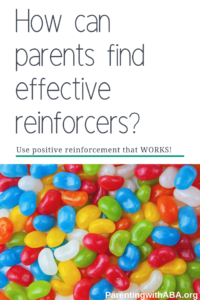 Enter preference assessments.
A preference assessment is "a variety of procedures used to determine the stimuli that the person prefers, the relative preference values of those stimuli, and the conditions under which those preference values change when task demands, deprivation states, or schedules of reinforcement are modified" (Cooper, Heron, & Heward, 2014).
As parents, we can do this in a number of ways.
Observe your child and see what they choose to play with. This can take place at home but also outside your home. If you go to a friend or family member's house, what things does your child choose to interact with? If you go to a museum, bookstore, other outings, what interests does your child show?
Make a list of things/activities you think would be good reinforcers and ask your child how he feels about them. Depending on age and ability you could have him rate them on a scale of 1-10 or have them choose a happy face for each one. You could read each item and have your child give thumbs up, thumb sideways, or thumbs down to indicate preference. If you can't think of ideas, google it. There are many reinforcer surveys or preference assessment checklists floating around on the internet.
Let your child generate the list. Ask "What do you want to earn?" Let them say the big things that are unlikely and help to identify ones that are reasonable.
If you are going to use new items- let your son choose. Take your child shopping. I let me daughter pick one or two things from the dollar spot every time we go to Target. She doesn't get to keep them that day. She puts them in her prize bag to earn with good behavior or reaching goals on a token economy.
Any time we have a valid system of positive behavior supports in place, such as your token economy, and it stops working- it's not the system. It's the reinforcement. The reinforcement you are offering is simply not strong enough.
Up the ante. Give better options for rewards. Identify potential reinforcers by conducting a preference assessment. Let your son choose his reinforcer.
Whenever there is a new problem behavior, or a behavior management system not working- my first response is increase the positive reinforcement for appropriate behaviors.
Be prepared to continue to do preference assessments every once in a while. Our children's interests and preferences change, so if we stay in the know we can have effective reinforcers at hand.
---
References
Carr, J. E., Nicolson, A. C., & Higbee, T. S. (2000). Evaluation of a brief multiple‐stimulus preference assessment in a naturalistic context. Journal of Applied Behavior Analysis, 33(3), 353-357.
Cooper, J.O, Heron, T.E., & Heward, W. L. (2014). Applied behavior analysis. Pearson Education International.
DeLeon, I. G., Fisher, W. W., Rodriguez‐Catter, V., Maglieri, K., Herman, K., & Marhefka, J. M. (2001). Examination of relative reinforcement effects of stimuli identified through pretreatment and daily brief preference assessments. Journal of Applied Behavior Analysis, 34(4), 463-473.