Guest author Daniel Sherwin of
Dadsolo
 shares ideas for one of the hardest parts of the day- mornings! These are much better than my personal strategy- drink all the coffee. Thank you,
Dadsolo
!
---
Are you stressed out in the mornings? Crazy trying to get everyone out of the house on time? Now you can be calmer and more prepared. Here are some tips to help you get yourself and your kids up and going in the morning: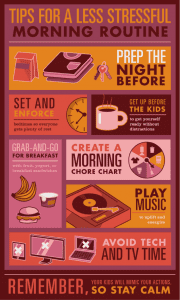 The important thing to remember is that none of these steps matter if they don't encourage your children to improve each and every day. You can even use one step to reward the successful completion of another. For instance, if your daughter completes her chores on time before you have to ask, let her pick the morning's music. By staying consistent and offering rewards that encourage further cooperation, you, and your family, can thwart stress and enjoy your morning routine.
---
Be sure to check out
Dadsolo.com
for more ideas and awesome infographics!