Have you ever wondered:
Am I even able to use ACT techniques if I don't have a college degree in it?
Is this in my scope of practice as a BCBA? What about scope of competence? What's the difference?
How can I make it easier for my families to follow through with my recommendations after I leave?
Where would I even start to add more ACT ideas into my parent training?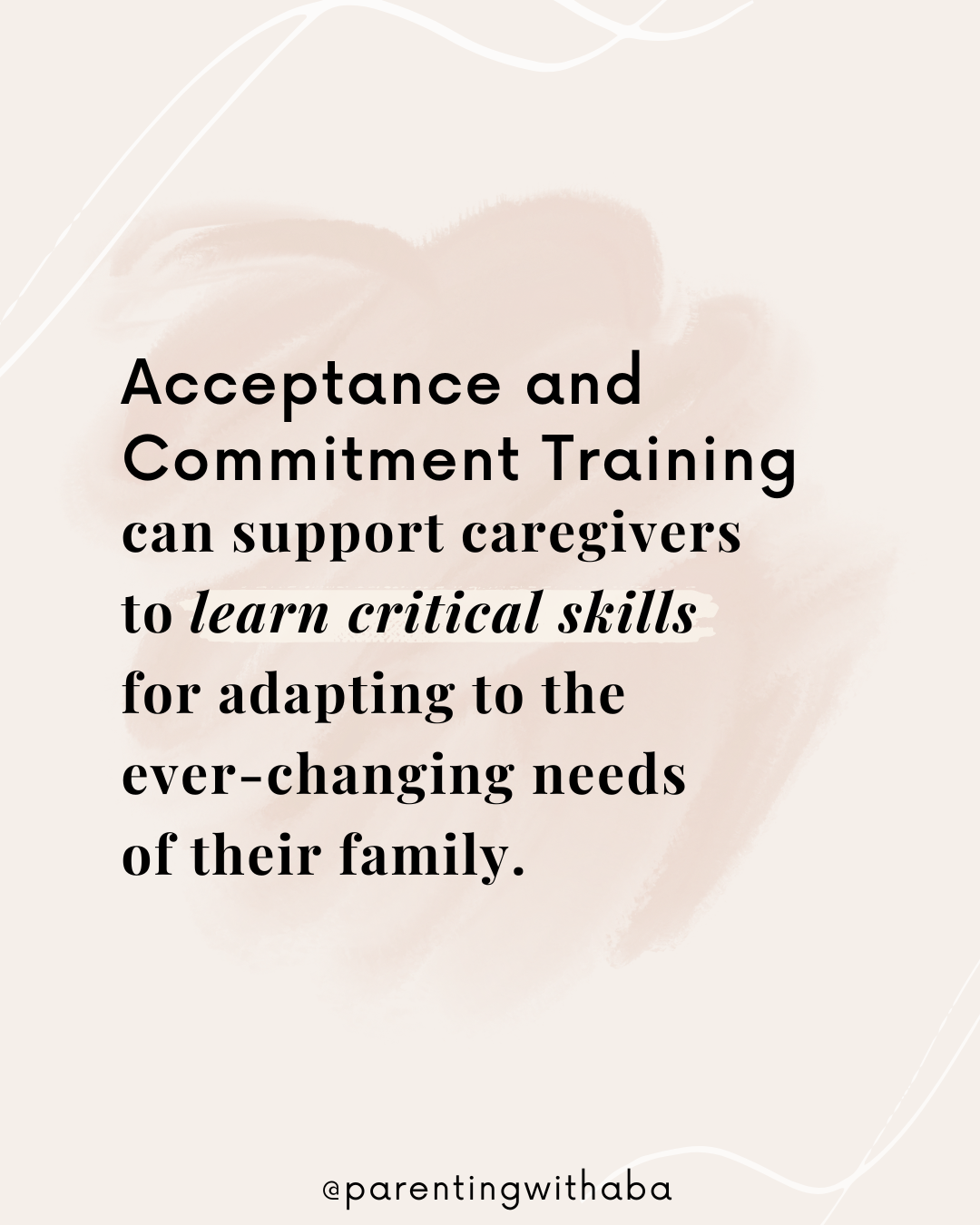 If you are new to Acceptance and Commitment Training (ACT), it may seem overwhelming.
Change is hard. Changing the way you do parent training may seem daunting- but it doesn't have to be.
If you are an old pro at using ACT, do you need to get back to the basics of parent training to make your sessions smoother?
ACT can be a super valuable tool for providing caregiver support as a behavior analyst.
Caregiving (especially when managing problem behaviors and extra stressors) can be exhausting and overwhelming. Then you walk in with your well-designed behavior plan and beautiful data collection methods. Does that add to the caregivers' overwhelm or lessen it?
Parenting can be challenging and stressful, accompanied by feelings of guilt, frustration, and burnout. ACT aims to enhance psychological flexibility which involves being present, open, and engaged while willing to change behavior if it aligns with individual values. ACT can help caregivers develop psychological flexibility by learning skills to adapt to the ever changing needs of their family, adjusting strategies based on what's going on in the moment, and focusing on their family values.
ACT is a powerful, effective way to incorporate more compassion into parent training.
Behavior analysts: When you are working with families, are you in tunnel-vision just focused on your most current FBA or assessment data? Or are you looking at the family as a whole? Do you have the tight, laser focus of just what the data shows or are you stepping back for a big picture perspective of the family unit as a whole? We can do both. It IS possible.
Do you know what each family you work with values? Do you know your own values? How do we help families identify their values and then incorporate that into our parent training time with them?
If you've wondered about using ACT in parent-training, Parenting with ABA offers an on-demand 5 CEU bundle for behavior analysts to learn more.
This ACT for Parent Training course includes five modules – with TWO modules on values-first parent support. Each module contains a video, links to resources & references, handouts & printables, and a learning CE certificate upon completion.
Learn practical exercises and walk away with a library of resources to use to help parents clarify values and to bring your parent coaching session back to values on a regular basis.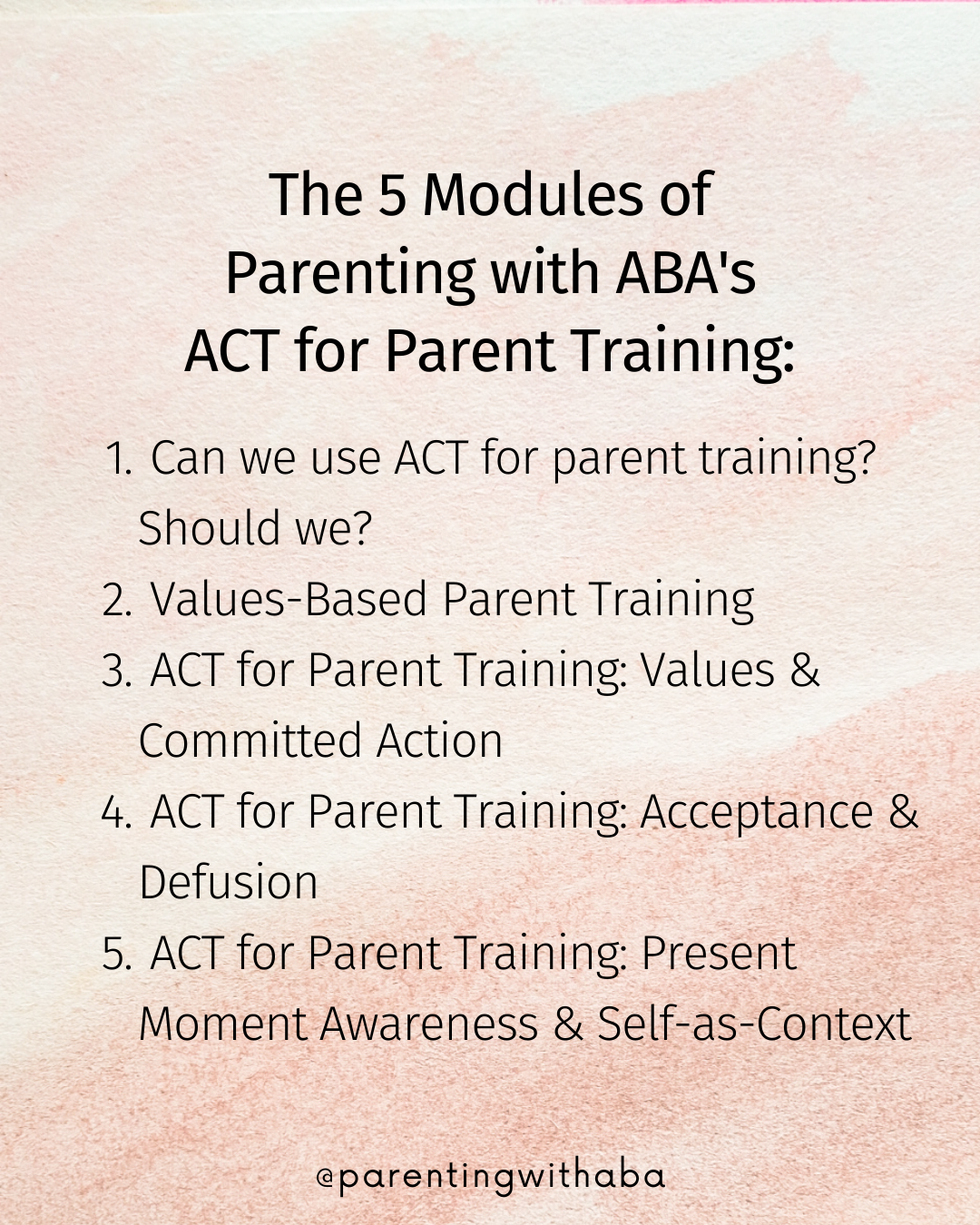 You care about the families you support. There is no question there. But sometimes we get caught up in the assessments and the data and we miss the forest for the trees. We miss the real human people in front of us for the data and assessments.
Incorporating pieces of Acceptance and Commitment Training helps us get back to what really matters- the people. The people we choose to support and really want to see have lasting outcomes in their homes.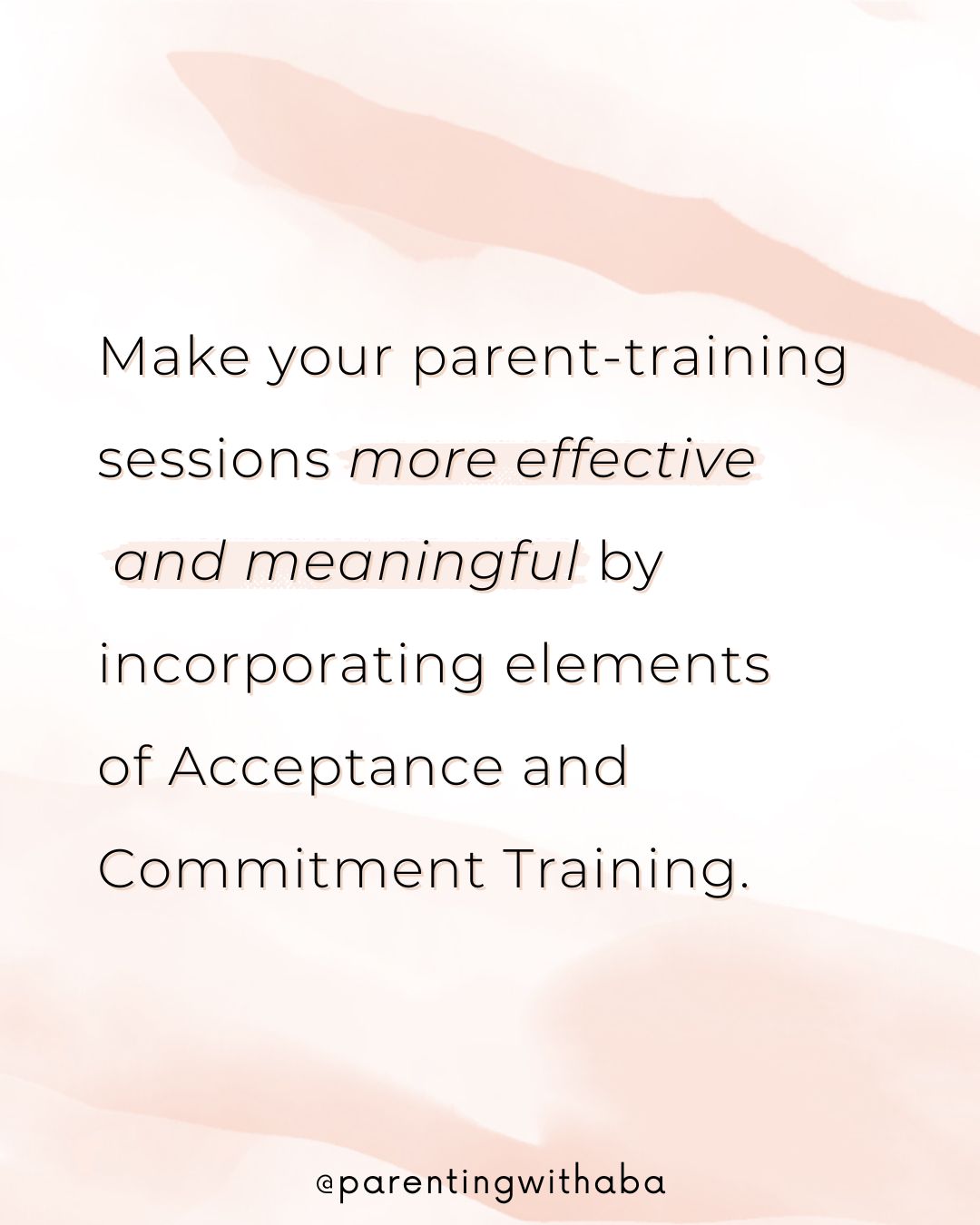 When you set parent training goals- what are they based on? Well, data and assessment. But is that what really matters to the parents?
We can also focus on values-based goals. What do the parents value? What do they want to see more of in their family? Do you even know? If not- those goals based on assessment data only are going to be more difficult to pursue.
Incorporating individual values makes parent training goals motivating, important, and meaningful.
Are you thinking that yes, of course, you want to make parent training more meaningful to the families you support. And all this sounds great- but it's kind of pie in the sky. How do I actually START using these things? What do I actually DO as a BCBA?
Parenting with ABA's ACT for Parent-Training will give you the knowledge and skill to help parents utilize ACT. You will learn how to help parents identify family values and how to take steps to live their values in order to navigate challenges with greater clarity, adaptability, and resilience.
This online on demand CE course is perfect for someone totally new to ACT but is also appropriate as a refresher to get new ideas for behavior analysts already using ACT in practice.
Learn more and get started here today: Parenting with ABA's On-Demand CEUs