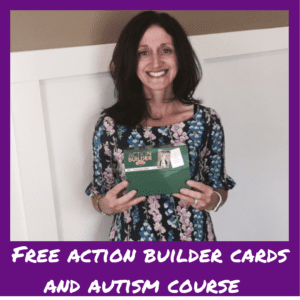 Rose Griffin is one of the rare combinations of speech pathologist and behavior analyst! Her expertise crosses both disciplines and she is great at helping all of us learn about communication!
For just about a week she is offering us- Parenting with ABA folks- a discount on her popular online course called Help Me Find My Voice.  When you use the code parentaba at checkout, thecost is only $98! This even includes a set of the Action Builder Cards sent to you (US only)!! That's a HUGE bargain!
The course is great for professionals & parents alike! I've taken it myself (and I wear both of those hats) and highly recommend it!
Help Me Find My Voice is a great resource for parents with children on the spectrum. After completing the course, at my own speed as my schedule allowed, I felt more comfortable talking to my son's therapists. The course helped put me on the same playing field, understanding common terms and techniques. At one point, I asked our BCBA if they were using errorless learning (something the course taught me) with my son. They in fact were, and I felt more involved in his therapy knowing this. Help Me Find My Voice is a tool that every spectrum parent should have in their toolbox! – Rebecca Shellito, mom
Don't hesitate on this offer- it's a pretty generous one!