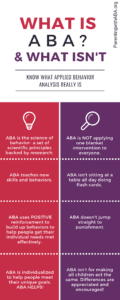 Behavior analysis is the study of behavior. It is the science of behavior.Applied Behavior Analysis (ABA) is the application of the principles of learning and motivation from Behavior Analysis, and the procedures and technology derived from those principles, to the solution of problems of social significance. Many decades of research have validated treatments based on ABA.
Applied behavior analysis (ABA) is the use of research-based techniques and principles to bring about meaningful and positive change in behavior.
What isn't ABA?
Applying one blanket intervention to everyone without individualizing it.

Using punishment first. Using punishment all the time, all over the place. Using punishment willy-nilly.

Sitting at a table doing flash cards all day.
What is ABA?
Focus on teaching desired behaviors.

Focus on positive reinforcement.

Teaching socially significant behaviors- like stuff that you need

every day

– communication, life skills, social skills, etc.
What isn't ABA?
Talking down to a child. Being rude.

Doing things without evaluating to see if they actually work.

Bribing kids.
What is ABA?
Using strategies that have been proven scientifically to increase desired behaviors.

Individualizing everything to meet the needs of the child. 

Reinforcing the good stuff. Teaching the good stuff. Helping kids succeed.
Applied behavior analysis has been proven to be effective time and time again with a huge variety of populations. That is why I feel so strongly about sharing these positive behavior strategies with Moms of Littles.
We can help our Littles be successful in the most positive and efficient manner by relying on scientists to do all the background research. We can rely on proven methods and spend our time focusing on helping our Littles learn and grow!
Check out Parenting with Science: Behavior Analysis Saves Mom's Sanity to learn more about ABA for Moms!
Research is COOL!
Baer, D. M., Wolf, M. M., & Risley, T. R. (1968). SOME CURRENT DIMENSIONS OF APPLIED BEHAVIOR ANALYSIS1. Journal of applied behavior analysis, 1(1), 91-97.
Cooper, J., Heron, T., & Heward, W. (2007). Basic Concepts. In Applied Behavior Analysis(2nd ed.). Columbus: Pearson.
Sulzer-Azaroff, B., & Mayer, G. R. (1991). Behavior analysis for lasting change. Holt, Rinehart & Winston.